Upcoming Events
November 24th
First Christian Church Thanksgiving Potluck
In the gym following the 10:30am worship service.  Turkey, mashed potatoes, and gravy will be provided.  Please bring a side or dessert to share.
Interfaith Thanksgiving Worship Service
At 3pm in the Sanctuary.  Light refreshments will follow in the parlor and north hallway.
Past Events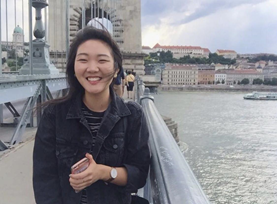 October 6th – Guest speaker
Priscilla Yang – Global Mission Intern
Current Description of my work:
My work with the Ecumenical office of the Reformed Church in Hungary is multifaceted. Three mornings a week, I work in the Synod office updating the English website with articles I wrote or edited. I also lend a hand as needed, administrative work, helping to host international guests, taking part in discussions, and so on.

Most of my time is spent serving at Kalunba Social Services Ltd., the implementing partner of the Reformed Church in Hungary in refugee integration. The work here is also as needed, focusing on being an extra hand to the staff. I coordinate volunteers, teach English, partner with staff to lead workshops, plan and implement events and activities for the children, provide childcare during lessons, edit grant proposals, and more.